Term 4
We have had an exciting start to Term 4! We were becoming doctors looking at x-rays and trying to diagnose what is wrong with the patient and what part of the body it is. We had a bag of bones and we had to try and put the bones back in the right place. We also had pictures of different animal skeletons and we had to guess which animal the picture was showing. We had so much fun!
In maths we have started looking at fractions. We have learnt what numerator and denominator means. We were looking at unit fractions, Miss Brisley told us to draw a shape and then shade in a certain fraction. We had to spot which fraction wasn't a unit fraction.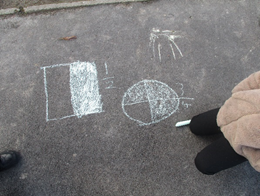 We have been looking at instructions, what they are used for and when we have seen them being used in school. We came up with a checklist for writing instructions. We then used this checklist to annotate a set of instructions.